We settled down for winter in Alghero. I say settled down, but our experience of overwintering last year in Rota had taught us that we should expect to be pretty busy. A full year of cruising had given us a bigger list than ever of tweaks and modifications that we'd like to make to Samarang as well as the usual painting and decorating type jobs that everyone has to do to their home from time to time, but come around more often in a marine environment.

But priority number one was to start learning Italian. We'd been in Sardinia now for 2 months and in spite of our best efforts it had been impossible to find any sort of self teach Italian course except for one aimed at 5 year old children. Our vocabulary based on "cappucetta rossa" (little red riding hood) and phrases like "dami la bambola" (give me the dolly) were proving less than useful in our conversations with shipwrights and the like.
There were several language schools, though not all of them open (it was nearly winter), but we settled on Oltremare (http://www.centro-oltremare.it). A new school, in its second year, owned and run by Paola Cattani, which in addition to languages ran courses in Sard cookery. Based on our experience of learning Spanish the previous year we had decided to take a far more intensive approach to get us speaking useable Italian more quickly. We signed up for 4 hours a day, 5 days a week for the first month, followed by a second month at 3 days a week, plus homework and the occasional film.

But before we could start, Paola invited us to lunch at the school to sample some typical Sard cuisine. We expected some nibbles and a couple of glasses of wine. We didn't expect mixed antipasti, gnocchietti with tomato and sausage, a roast suckling pig with roast garlic potatoes and salad, followed up with Sard cakes, pastries and chocolates and all accompanied by a selection of Sard wines, red and white Mirto and of course grappa.

We were to be treated to a feast of a similar scale at dinner a couple of weeks later produced by the student (note the singular) of the cookery course on her last day. The main course was lamb cooked in red wine with kilos of olives and oven-baked potatoes with rosemary. Delicious.

Life in the marina was to prove quite different from the previous year in Rota. It is a much smaller marina and there were only two boats other than us which would be lived aboard full time during the winter; though other owners would drop in from time to time courtesy of Ryan Air's fantastic prices. The other permanent occupants were: Mike & Lorraine on Klatawa, this was their first year afloat (in a yacht that is - they also own a canal boat in the UK), and Dave & Rosa on Argo, in Alghero for their second year and in the process of negotiating the intricate Italian legal system in their effort to acquire a permanent home in Sardinia. Dave was also to become a fellow student at Oltremare - Rosa being Spanish was already virtually fluent in Italian.

A major plus for Aquatica (http://www.aquaticasardegna.it/)is the marina owners and staff - Roberto, Fabrizio & Alex. Negotiating our spares through customs, providing an introduction to the bank manager, giving us a lift to the airport, etc, etc nothing seemed too much trouble.

The only difficulty we ever had with Aquatica was trying to pay them! It took weeks "Roberto, can I pay you for my berth?" "Better to speak to Fabrizio." a week goes by "Fabrizio, can I pay you for my berth?" "OK, I'll come to your boat tomorrow." Another fortnight later "Hey Fabrizio, can I pay you for my berth now?" "Later, come and see me, but only when I'm here." Am I losing it? Surely you're here now, aren't you? And anyway how could I possibly see you when you're not here? I'm reminded of Major Major in Catch 22. We did finally get to pay them, but they would only take part fee - "pay us the rest when you leave."

And then, when Fabrizio had finally got our new heat exchanger released from customs and delivered to the marina - "If you prefer you can pay for the delivery without tax." Well of course I preferred, but in spite of Fabrizio's attempted explanation of the way the Italian year end works, I never did really understand how I was avoiding it, or how I could extend the principle to other bigger purchases. So I settled for adopting the gift horses mouth approach.

As well as the guys at the marina there were a couple of other stars of the winter. The first of these were Marina Diesel (http://www.marinadiesel.it/) run by the Troia brothers Salvatore and Franco and their sister Nicoletta. - Perkins, Bukh, Beta, Scan agents and fixers of just about anything mechanical. Both Salvatore and Franco are ex ships engineers so know their way around a boat and both speak pretty good English. We got to know Salvatore well as with much chuckling on his part we continued to torture him with our terrible Italian when we could all much more easily have talked in his far better English. These guys seem to have built a business based on doing what they say they will for a fair price and being around to tweak anything that needs tweaking weeks after they've completed the job. We just wish they had a branch in every port we visit!

Another success story was Schenker from Napoli (http://www.schenker.it/), who supplied our watermaker. Riccardo Verde provided unlimited answers to my seemingly endless list of questions. Introduced me to some English words I had to look up in the dictionary (eg - orthogonal). The great thing was, that with Ricardo's help we installed the system, switched it on and it just worked - best water we've ever tasted. Even more importantly for us as cruising sailors, Riccardo was also 100% there to help when things went wrong a few months later - as you'll read in a couple of pages.
Anyway, Alghero is a pretty old town with a sense of history and the Sardinian hinterland is wild and majestic, but unfortunately things like carnivale and Settimana Santa were nothing in comparison to Andalucia. This, combined with the only tiny cruising community meant that our social life was much quieter with the result that work on the boat made better progress. Some excerpts from Lindy's diary and e-mails will give you a feel for our winter on board:
2004 October - Alghero

Jobs started immediately with washing, drying and packing away of sails (stops them going 'green'), washing of ropes - in the washing machine with loads of fabric conditioner - to get them clean and soft again; repairing various bits and then there are the big jobs on the list - painting outside and inside, varnishing, removing rust, repairing the leaking dinghy (again), servicing the outboard and main engine; replacing hydraulic pump of steering, buying a water maker, buying a generator ...and so on. We have also been doing an intensive Italian course (rather than 2/3 hours a week in Spain) which meant 4 hrs daily, 5 days a week for 4 weeks and now we have reduced this to 4 hrs daily 3 days a week for 4 weeks with an Italian film (with Italian subtitles) once a week plus magazines. We also get homework!! As you can imagine we are not bored.
2004 November

- Alghero

The bad news is that our new tenants (Tim Christmas and family – a Dickens fan with a sense of humour perhaps?) have not paid any more rent since they moved in (having paid 1 month + deposit). The agent thinks they have no intention of paying, have phoned - left messages, driven round, knocked on the door - no answer - curtains closed, lights on, brand new Bentley Continental + BMW in drive. Our friends in the village tell us that the top rumour in the Old Vine is that they're making porno movies.

They have been issued a notice to pay or vacate by 26 Nov. Time up. Now the solicitors have to apply to the court (? 8 weeks) to get a possession order, and then bailiffs... more bad news is that we didn't take out the insurance so not only are we losing the rent but we have to pay the solicitors, barrister, bailiffs.. Eh!!
2005 January

Have just returned from UK and having a rest! - had to spend quite a lot of time at Ketley Cottage (10 hours cleaning to start, as a prospective new tenant was on the horizon, and then we decided to put more things away in our cupboard which involved buying boxes, bubble wrap, tape etc, replacing lots of light bulbs and so on). You will gather from this that Tim Christmas has left - he didn't tell anyone, just took the keys and went one night, leaving all his bills (including some for an Aston Martin), parking fines, debt collectors letters, a summons for unpaid council tax, food in the fridge, pans in the sink and a collapsed bed! Barry also fixed the bed. At least we have the house back.

2005 March

So - who decided to send the snow to Sardinia?? Everyone here says the weather is so cold and it doesn't normally rain so much and normally you have T-shirts on in March....but we hear it is much worse in the UK and hope you are not suffering too much.
Since returning we have spent 4 weeks painting and varnishing the aft cabin, the passageway, the saloon and the galley, including the ceilings which involves removing all the trim for sanding and varnishing separately.

The aft cabin was emptied and all mattresses etc were stacked in the forecabin - we slept in the saloon in sleeping bags for 3 weeks.

When the aft cabin/passageway was complete, everything was moved back and we had a day off.

Then the saloon cushions were stacked in the forecabin, books in the foreword shower/aft cabin etc, all trim removed, pictures down...and we spent a day sanding.

We ate out for 4 nights because there was nowhere to sit down and cooking was very difficult.

When it was less difficult we hired a DVD, heated a meal in the oven and sat/lay on the bed.

After the saloon was finished (7 days) the books and pictures were cleaned and returned very slowly - our shoulders/elbows/wrists need a rest and the forecabin is next AND the floors.

The joys of living on a boat!!

There are signs that the effects of continual exposure to paint fumes in the confined environment are starting to show on at least one of the crew:
2005 April
We are informed that contracts have been exchanged with a new tenant who will move in imminently, which is such a relief
as no rent for over 4 months is becoming a worry. The good news is that they want the house for 12-18 months so as long as they pay the rent and keep the house and garden looking good ..... they do have two small dogs!!
Our weather is now good - up in the 20s during the day with lots of sunshine but still unsettled showers/wind at times.
We have now completed our painting/varnishing of all surfaces below decks except for the floors which will need a bit of organising. We are now doing above decks with treating of rust patches, repainting and making new covers for things. When we are ready (a few weeks or so) we will take the boat round to the north of Sardinia to come out of the water to
have the bottom blasted back to steel, and then coated with some new paint (6 coats) and antifoul with copper in it. It's supposed to last for 10 years without re-antifouling. That's the idea anyway and as we are thinking of heading for Brazil next winter we are going to get everything done this year.
Oh - and Barry also sent me up the mast to free a halyard and clean/spray the main sail track down the mast. Our neighbours were very impressed at the "girly" being winched up and once at the top (60 ft) it wasn't so bad and I took some pictures while I was there.
There is simply too much to do and too many places to go and see....we are busy but enjoyably so....and there will never be enough time which we accept.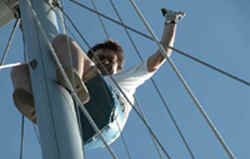 Bye for now...