We had known for some time that we needed to get our bottom sandblasted and re-epoxied. Layer upon layer of old hard type antifouling had built up to such a thickness that it would occasionally develop small cracks. This would let seawater through to the galvanised coating on the hull, which would then be quickly destroyed by galvanic action leaving a pock mark of rust about an inch across. Each time we antifouled we ended up dealing with a couple of dozen of these. The real answer was to blast the old paint off and start again.

We had also been interested for a while in some of the copper epoxy products on the market. It's fair to say that there had been mixed reviews, but our feeling was, that since copper cladding had been the traditional way of keeping hulls clean of fouling for hundreds of years, then it ought to work. What brought the whole thing together for us was when we discovered that our neighbours in the marina, Richard & Heidrun on Maid of Wyvern, were applying copper plus to the hull of their yacht. We decided to follow their lead and we would paint Samarang with an epoxy ceramic primer followed by epoxy copper. Armourguard and Copperplus both from Permanent Coatings in Cornwall.

The next question was where to get the work done. First choice would have been Sopromar at Lagos. We'd seen them do similar work on a friends boat and knew that they did really good work. Unfortunately, they didn't respond to e-mails and Lagos was a little out of our way to go on speck. We also checked out Malta, again not really on our planned itinerary, they could only do the work in August and were quite expensive.

Then Roberto the local chandler/rigger with whom we'd become quite friendly introduced us to his mate who had a boat yard in Porto Torres, sandblasting kit, etc. He seemed to know his stuff, the price was OK, Porto Torres is a bit industrial, but what the hell, we agreed to go there in the spring. Then just a couple of weeks before we were due to leave, Roberto came and told us that he was in the process of purchasing the controlling stake in a local boat yard and could do all the work for the same price as his mate, but in Fertilia, (just up the road, tranquil, on the river) not in grotty old Porto Torres. We agreed.
Well, there's a proverb I think about changing horses in mid-stream. The real problem was that the sandblaster that Roberto had contracted thought he was only coming to remove old antifouling, not antifouling, epoxy, chlorinated rubber, etc. He wanted more money (sort of understandably - 3 days rather than 1 days work) and ultimately ran out of sand before the job was quite finished (none left in Sardinia - allegedly). The final bits were taken off by disc, which cost only time. Incidentally, nothing was tented during the sandblasting operation, in spite of promises to the contrary. There was sand and paint and old antifouling, etc everywhere. We were slightly prepared and this actually turned out to be a much bigger problem for the other boats in the yard than for us, particularly Brian parked next door!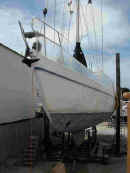 The final problem was that really the ceramic epoxy needed airless spray equipment. The manufacturer had said that it could be applied by conventional spray, but that turned out to be not really true. The painters had a pretty powerful compressor and really tried hard, but in the end we didn't get the finish we were looking for and when we came to the copper epoxy, we admitted defeat and let them roller it on. They'd wanted to do the same with the ceramic after they'd tried the first coat even though it would take them twice as long and they were being paid for the job not for time. So anyway it's all on the boat though not quite as smooth as we'd wanted. I've already discovered how hard the ceramic is as it had been sprayed up the through hulls for the log and depth gauge and it took me 3 hours with a hammer & chisel and a file to remove a coating of about half a millimetre! And so far no sign of green slime, but early days. The Copperplus is very brown though.
One highlight, (or at least light) of the time in the yard was the owner Cesare, who I don't think has any real intention of selling to Roberto, the yard is his life. He has another in Brazil, where by the way he owns an island close to Rio. He's an ex-power boat champion and at least half mad. One moment your best mate, the next throwing lumps of railway sleeper at the boat. He has a gammy ankle and so is constantly whizzing about the yard on a little scooter, whistling and shouting at people. He collects cranes, earth scrapers, boats, anything really. Oh, his particular passion is fork lift trucks, which he can be found driving around on whenever he's not on his scooter.
He built, welded and bolted together, (like a giant Meccano set) the most amazing frame out of girders, to hold Samarang so that there was nothing touching the hull below the waterline. Only, once focused on a project like this he really hasn't got time for anything else - like talking to mere customers, so we were awakened first thing in the morning by Cesare driving his fork lift truck into a girder under the boat - so as to drive it through the frame that was holding us - as phase one of his grand design for the suspending of vessels.
Oh, and he broke his biggest fork lift moving the boat. Oh and then Samarang sank! Into the ground that is, which is not something we expected on board a boat, but there'd been a lot of rain, and Lindy had done 4 loads of washing!
And he had a beat up old Merc that anyone in the yard or marina could use to go shopping, which for scummy boat people is a major plus. It did need towing to bump start it and had to be stalled to stop it, but nothing is absolutely perfect.
We were finally craned back in (yes that's craned - no namby pamby travel lifts here) and set off for good old Porto Conte, our first port of call when we arrived in Sardinia, to get our breath back, before starting off on our travels again.