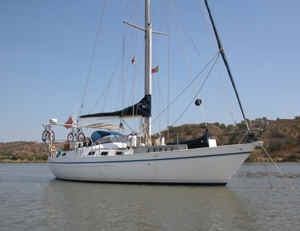 Samarang is a 46' steel centre cockpit Bermudan cutter with long fin keel and skeg hung rudder. The hull is of rolled steel, round bilge construction with stainless steel bulwarks and rubbing strake. She's a one-off design by Bill Bollard of Sydney, Australia. Bill has now retired, but a selection of his plans are still available from Boden Boat Plans. Actually her sister ship, an aft cockpit version, is currently in build in the UK. Samarang's hull was constructed by Col Cuneo in 1984.

The fit out was undertaken by Naut Yachts of Sydney and the yacht was completed in 1986. She underwent a major refit in 1991 when purchased by her second owner, and a further major refit in 2002/3 after we purchased her.

She has a centre cockpit which allows a proper aft cabin with large double bed and en suite heads. There is also a guest double cabin in the forepeak with its own heads. When unoccupied (ie normally) this also doubles as a workshop with a slide out work bench. There are also (at a pinch) 3 further berths in the saloon, but we've never tried cramming that many people in. Two of the saloon berths do however make excellent pilot berths on passage.
Between 1991 and 2000 Samarang covered 30,000 miles from Australia, Western Pacific, Indian Ocean, Red Sea, Mediterranean, Atlantic, Caribbean and finally the UK. We leave the UK heading for Portugal at the beginning of June 2003, trusting that she will care for us as well.
Various pictures are included as thumbnails under the picture button above. Just click on any thumbnails for a full size picture