George Town does indeed attract the cruisers. There will be 400 boats here by the time of the regatta in February. They will be 70% from the US, 20% from Canada with the remainder coming from all over the world. The attraction is the relatively sheltered water of Great Exuma Sound which could accommodate more than twice that many boats and provides some degree of protection from every direction - though you have to be prepared to move around a bit if you want to be really comfortable. Unfortunately, due either to a crushing desire to be as close to the beach as possible, or to inexperience, or both, many boats anchor too close together, with too little scope. The inevitable result is that every time a cold front goes through (weekly in the middle of winter) the VHF will be alive with the cries of alarm/or for assistance from boats who have dragged their anchors, tangled with or hit other boats, etc. And of course it always seems to be at night.

George Town itself is a bit disappointing. It does have a couple of reasonable supermarkets, but surprisingly they are less good than we find in other smaller islands. The same is true of the handful of bars and restaurants. You'd think potential business from 400 boats would generate something better, but the local businesses do very well out of the cruising community as it is, and the cruisers accept things the way they are, so there's no incentive to do any more. The final negative is that some of the beaches closest to the main anchorages are private, and that limits the opportunities for the kind of ad-hoc social events which normally take place when this many cruisers are gathered together. All that said, Great Exuma has a well run radio net every morning, is a useful place to stock up, trade or sell goods, shelter from weather, get spares flown in and generally stage for moving on to some of the other islands which are much less visited, or for the Caribbean and beyond. It has an airport so is useful for crew changes/additions coming out of the States and good for meeting up with old and new friends, two of which were Rose and Tom on Sojourn whom we had not met but seemed to have known forever through the SSB nets from Panama to Mexico.

For us this is primarily a staging post for our third attempt to visit Cuba. But again it's not to be, at least not yet. After a visit to the local doctor Lindy needs some medical tests and the only place they can be performed in the Bahamas is Nassau, the capital. We look at the option of flying, but although the flights are reasonable, accommodation is astronomically expensive, so we decide to sail. What is a 90 minute flight will take us 6 days.

So, back the way we came, but taking the opportunity to stop in different places. This time, instead of turning right to exit through the reefs of Highborne cut, we turn left and head across the Yellow Bank to Nassau. It's 30 miles, about 10 of which are charted at little more than our draught with the added fun of a large number of rocky outcrops. Fortunately the rocks are black and stand out clearly against the homogenous background of the yellow bank, which is of course............. Well no, it's actually turquoise! Easy peasy though this all sounds we do still manage to hit one of the outcrops, well scrape is more the word I guess. We will be more careful on the way back!

Nassau on New Providence is the capital of the Bahamas and home to some 1/4 of a million people - that's 75% of the Bahamas population - and like most large cities in the third world, particularly those that can be used as a drug conduit to the USA, it has a reputation for crime and violence. Nassau is home to a number of marinas ranging from expensive to outrageous and they and the main anchorage are situated in the channel formed by the north of New Providence and Paradise Island, which is where most of the tourist hotels, casinos, etc are to be found. The anchorage is notorious for petty pilfering and bad holding. It also suffers from up to 3 knots of tidal current running in opposite directions 4 times a day, which means that you are almost certainly going to be in a wind against tide scenario for part of every day. In summary, not much to recommend it, but sometimes needs must!

Lindy's tests go without a hitch and are all clear. We would be in a position to leave except that on the trip here the raw water filter on the main engine has sprung a leak. We are at least in a place that has multiple daily flights from the US so we can get a new one flown in, but it delays us for a couple of days, by which time the weather has decided that it doesn't want us to leave just yet. We're stuck in Nassau for ten days before we can begin our trip back south, but finally we're on route back to George Town - this time taking more care to avoid the black lumpy bits on the Yellow Bank.

We are on the last leg back to George Town, another broad reach, until............................. This time we lost the steering. Actually that's a bit melodramatic, we only lost the ability to turn left . We could turn right as much as we liked, so in theory we could go anywhere we liked, it would just be more complicated! What we also couldn't do though was hold our course as on this point of sail we naturally drifted off to starboard and needed to steer to port to compensate. Turning the wheel continually we could just do it, but obviously fluid was being forced past the seals in one of the hydraulic rams that controlled the steering. Dropping the sails relieved the load on the steering and we were able to continue under motor towards George Town as long as we didn't try any rapid turns to port. This time thankfully the engine played ball!

Our initial diagnosis was correct, though until we disassembled the system we had no way of identifying which seal, in which ram, was causing the problem. Of course the parts weren't available in the Bahamas and would have to be flown in. Once we disassembled the steering we'd be completely disabled so the only sensible option was to order every part that could possibly be causing the problem and then pick up one of the few buoys available (with the help of Taipan) - before we started the work. So that's what we did and a couple of weeks later after sailing round in various circles to trial the system we were once again waiting for weather to head for Cuba. David & Kris were heading back towards Nassau so we said our goodbyes.

The first steps of our route to Cuba, which lay 140 miles to the south of us would be to sail some 40 miles NE to get around the top of Long Island and reach Conception Island as a jumping off point. Day 1 to the anchorage at the top of Long Island was hard on the wind - wet and exhausting. Day 2 worse, beating into 20 knots of wind. Not quite as per the forecast and we had seriously underestimated the contrary current. Forty miles to do twenty - and we thought yesterday was tiring .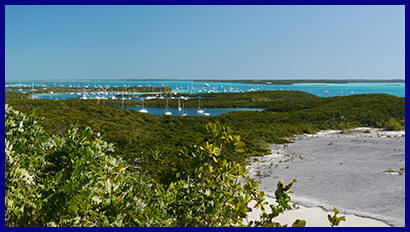 By the time we reached Conception Island - which incidentally is a nature reserve and by all accounts stunning - the weather forecast had changed. With the wind as forecast and the opposing current there was no way we could sensibly lay our next destination. Of course there is always a way if you want to beat into head winds and opposing currents and are happy to anchor in exposed rolly anchorages in gale force winds, but we prefer an easy life! And on the subject of rolly anchorages, our current location would begin to suffer from significant surge when the wind direction changed in a day or so.

Well, there was another way of reaching Cuba. There was the Comer Channel. We have beat 40 miles into the wind and added more than a 100 miles to the trip to avoid taking the Comer Channel. Remember when Aragorn in Lord of the Rings realised the only route left was to take The Path of the Dead - well for us it was the Comer Channel.

The Comer is a narrow, shallow, 12 mile, unmarked channel through the banks. There are no landmarks and the chart is littered with words written in red like - Shallow, Almost Dries, Shifting Sand Banks, Incompletely Surveyed. We know it can be done at high water, because we know a boat of almost our draught that has done it, but it won't be stress free. Additional complications are that there are 10 miles from the nearest anchorage to reach the beginning of the channel and a further 25 miles from the exit to the next possible anchorage. The need to arrive there in daylight, nearly 50 miles to run overall and also needing to hit (Bad choice of word?) the middle of the Comer around high water springs meant there were only a few days each month when the trip was viable - and that assumes that the weather was prepared to play ball.

Once through the Comer Channel we'd be in the Jumentos Cays and we could hop down towards Cuba. From the southernmost Cay the Cuban coast is only 60 miles away. But, before we could begin this trip we first had to retrace our hard won steps (which would now be a downwind romp), then negotiate a 6 mile narrow shallow channel (which would be good practice) before we would be able to make our way to Thomson Bay, the closest anchorage to the Comer.

The trip down to Thomson Bay and the anchorages were actually very pleasant and so is Thomson Bay, though it's so shallow we can barely get to within a mile of the shore and the settlement is almost a ghost town. It has though, without doubt, one of the best supermarkets in the Bahamas outside of Nassau. We don't know who can possibly shop there to keep it going, perhaps it's the ghosts, but we are very glad they do. The owners should move it to George Town, they'd make a fortune.

But every silver lining has a cloud! In our case it was a rumble from the prop shaft. It had been going on for a while, but there was no doubt that as we had motored down the long channel along the coast of Long Island it had got worse. Barry spent some time under the water examining the prop and shaft. The shaft and bearing seemed fine, as well as could be judged underwater, and the bearing was in any case virtually new. There was though some play in the blades of the folding prop which wasn't there before. We contacted Variprop who have UK and US agents. They tell us that the prop should be serviced at least every 5 years, something not mentioned in the paperwork which came with the prop 13 years ago! "It is impossible to predict the length of time that this propeller will continue to operate in its present condition" - is the best we can get from the US agent and given how litigious the US is, I suppose you can hardly blame them.

So it's time for tough decisions. Should we continue with rumbling prop, which now carries a health warning, toward Cuba - a country where spares are non-existent, where there is no way of importing them from the USA and where there are no real facilities to lift the boat to effect the repairs anyway. Or should we limp our way back through the Bahamas towards the US. Of course we always have our sails, and if we were carved out of the same stuff as Scott or Shackleton then the mere possible failure of the propeller would not have been enough to stop us, and we would have pressed on. But we're not, so with a deep mutual sigh when we hauled our anchor it was towards the US that we laid our course. We did everything possible to avoid using the engine and over the next 600 miles we probably ran the engine for a total of no more than a couple of hours. It is possible, there are purists who do it for fun, and we could probably have carried on to Cuba, but with the possibility of losing emergency engine power our decision remained the seaman-like one. Seaman-like, but still pretty depressing.

The trip back west/north covers now familiar ground except we sail through cuts and in and out of anchorages where we would normally have resorted to the engine. It's only after Nassau - where we don't bring the prop into play until we are approaching the harbour bridge - that we enter previously unvisited waters. From Nassau we head NE to the southernmost Berry Islands and from there continue across the Great Bahama Bank to Bimini. The bank is shallow (of course) but the inter-island freighters follow the same channel. They're built for these waters and actually draw less than us, but it's strangely comforting nonetheless to be overtaken by a container ship in these waters.

It's over 80 miles from the rolly anchorage at Bird Cay in the Berries to Bimini, so not possible to complete the trip in daylight. We leave before dawn with the intention of making our entrance onto the bank at first light. Darkness will have fallen before we arrive at the anchorage in Bimini, but on the chart the end of the trip looks far simpler. The only fly in that particular ointment turns out to be that none of the charts show the new, very large, ferry terminal or its approach channel, which all just happens to have been built where we have decided to anchor! The channel is extremely well lit with flashing red and green markers, we just have no idea what it is, and additionally Bimini is so low lying that the channel lights are equally visible (and equally confusing) from both sides of the island. There is no moon to help, but we negotiate our way in towards the beach where it seems to be clear of any hazard. Less than half an hour after dropping the anchor a ferry appears over the horizon and seems to be heading straight for us. (It turns out they only sail 3 times a week so we're super lucky!) We are pretty sure we're safe where we are, but not sure enough not to switch on every light we have - just in case. The ferry/floating casino does an impressive three point turn to reverse onto the dock and we finally feel confident enough to go below and pour a drink. Not the most stress free of evenings.