| | |
| --- | --- |
| | Puno was our base for exploring Titicaca. Apart from one intensely touristy street, it's a gritty sort of place and at 4000 metres, baking hot during the day and bitterly cold at night - we hadn't seen ice in the streets for quite a while. We read in the local paper that in the villages around Puno, 5 children had died of the cold a few nights previously. Indeed cold was to be a central feature of our visit. First the hotel was cold. The room was freezing. "Heating available in every room" the brochure boasted. Well we couldn't find it. Down to reception to discover that heating was available in every room, because they had a couple of portable heaters that could be moved from room to room. Bueno, let's move one to our room then. "There's an extra charge". Major sense of humour failure on our part and the heater was delivered to our room and for free! The reception and breakfast room were also freezing, requiring multiple fleeces There was a portable butane heater, but nobody seemed to have read the instruction about lighting it! We asked (I now being the gringo with the heater complex). It wasn't lit because it had no gas bottle. Stupid gringo - what's the point of trying to light a heater that has no gas bottle the staff seemed to be saying. It's worth mentioning that although we transacted with the staff in Spanish they and most Peruvians speak amongst themselves in their first language, which is Quechua or one of the other Indian languages. One oddity of Puno is that almost every Sunday they have a flag saluting festival. Just about everyone seems to turn out, but the major photo opportunity is the kids, some quite tiny, goose stepping around in fantastic pseudo military uniforms. |

Off to Titicaca. We were to visit the floating reed islands and then spend the night on the (non-floating) island of Amanti so just took a rucksack with essentials. The first thing that strikes one about Titicaca, before the islands, before the reed boats, before anything, is the light! At 4500 meters, under a clear blue sky reflected in this enormous body of water, the quality of the light is quite magical. No photo can capture it, you'll just have to go.

Our first stop was to visit a couple of the floating reed islands. These are built of floating peat/reed root blocks and reeds and continually renewed as they continually rot away. They're understandably a little squidgy and walking on them is a slightly slow motion affair reminiscent of the first astronauts on the moon.

Each of these islands is about a hundred metres square and home to a handful of families, each with an elected head man. They're each anchored about quarter of a mile apart, but in the event of an important wedding or festival can be dragged together for a couple of nights. They each have communication towers and we imagined some complicated system of signalling, but actually they just shout. .
Finally, for travelling between the islands they have the sort of reed boats copied by Thor Heydel for his Kontiki expedition. These used to be built exclusively of reeds and take the entire village 6 months to complete and only last for 18 moths. Now the main floats are made up of old plastic lemonade bottles covered in reeds. They look the same, but now only take 2 months to build and last for 2 or 3 years. That's progress
There has been a schism in the Uros people who make up the floating island community. The islands we visited had decided to embrace tourism as a way of augmenting what remains a very, very basic lifestyle. The other group have towed their islands far across the lake where they refuse all contact with tourism and try to preserve their traditional culture without influence from outside.

It's really, really hard to be sure which group has got it right!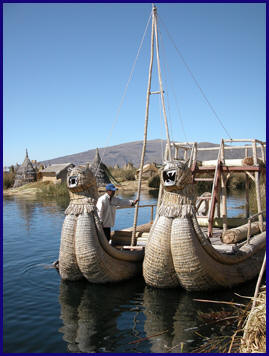 From the Islas Flotantes we were back aboard our boat to head for Isla Amanti further out in the lake where we would be spending the night. The boat was of an "interesting" vintage, with extremely suspect battery terminals, thus requiring an equally interesting starting procedure. The HT coil sat outside the engine compartment wrapped in a wet rag, presumably because it was far too small for the engine and so tended to overheat. The wheel steering in the forward cabin had presumably worked once, but had long ago been replaced by a tiller connected directly to the rudder at the back of the boat. This meant that the skipper helmed the boat perched on the aft rail but peering forward to look through the windscreen in the forward cabin some twenty feet away which was draped with tassles!

As we crept through the reed beds things became even more interesting. We were sitting next to the engine compartment and Lindy began to be sprinkled with water spurting up from the floor. this sprinkling soon became a full blooded shower and a quick investigation showed that a slowly unwinding piece of rag (the twin of that wrapped around the HT coil) was preventing water from flooding the boat via the prop shaft. We caught the skipper's eye with a meaningful nod to the prop shaft. He nodded back, began chewing his lip, but couldn't leave the helm until we were out of the reed beds. As soon as we were clear of the reeds he handed the tiller to the Peruvian tour guide whilst he dived under the floor to work on the leak and start bailing with a bucket. She, having never experienced a tiller before, turned hard right instead of gentle left and almost ran us aground. With suitable British reluctance we offered our services "Somos mariņeros, somos navigantes, y si tu quieres....." And so Barry fulfilled another small ambition - for the next half hour and for occasional bailing spells thereafter he, perched on that back rail, got to helm a boat on the highest piece of navigable water in the world. Lindy went forward and helped to navigate through the tassles.
We were to be staying the night on the non-floating Isla Amanti. There are no hotels or restaurants (or roads, or lights, or anything really) and we would be staying with a local family in their home. So we were entrusted to a young girl who skipped off up the hillside waving at us to follow. Remember that this skipping is taking place 4,500 meters above sea level - we plodded! Home was a two story building perched on the side of a hill overlooking the lake, with a couple of outbuildings, two earth closets and in the centre - the crowning luxury - a water tap. One of the closets was to be for our exclusive use during our stay, together with one of the outbuildings. The latter, about 4 metres square and furnished with a couple of iron beds, straw mattresses, a big pile of scratchy lama hair blankets a small table and half a candle. This was to be our only source of both light and heat!
First step was meet the family then lunch, both slightly unsatisfying experiences. We had nurtured a vision of eating together around the family table, chatting and learning about each others' lives. This wasn't to be the reality. Our meals were served in our room quietly and shyly by either the son or the daughter. Mother was introduced and then we never saw her again (father seemed to be absent). Everyone seemed polite, but very reserved (though others we spoke to on the trip had different experiences). The only member of the family who seemed keen to exchange a few words with us was granddad. It was he who came to see if we were OK and show us where things were and explain the exclusivity of our closet, etc. We made an attempt at conversation, but it soon fizzled out. There were a number of reasons - his principle language was Quechua rather than Spanish, he had lost almost all his teeth and he permanently had a ball of coca leaves the size of a golf ball packed in one cheek. But all that aside and most important of all, we had virtually no common ground. This is a very isolated community, with little external contact. A boat comes from Puno occasionally and now a few tourists, but that's about it and there is, as yet, no TV. Many of the inhabitants have never left the island except maybe a few of them for an occasional trading trip to Puno. The young men now are lured to Lima. Some disappear, but most return. They will be wealthy and exotic. They will be admired by the local girls and will marry. The girl will cut her hair for the first and last time in her life to weave the bridal belt and they will return to scratching a living out of the barren soil of Amanti.
Lunch. Cold chips, cold rice and a cup of mint tea. Dinner would be the same with the added bonus of a fried egg (cold) and a bowl of tepid liquid, which we guess to be soup - Though by then we would have found the shop that sold rum and of course we'd also have the candle! Breakfast, as lunch, but now also with added rum.

But before we got to the egg or the rum there was a compulsory climb to the top of the island to view the sunset, which we're sure would have been spectacular if we'd arrived in time. Remember again - 4,500 metres. (We were by now avid chewers of coca and drinkers of coca tea in an effort to ward off the effects of altitude sickness, but even so.) We were secretly delighted to see a few younger visitors struggling even more than us. This satisfaction swiftly melted away on observing the locals climbing up to their homes carrying enormous piles of belongings on their heads without any indication of discomfort. They have apparently bigger lungs.

The trip down in the absence of any kind of light was actually more arduous than the climb. And yes, of course we should have taken torches. And sleeping bags - it was too cold to undress and our spare essentials were unnecessary.

Up at first light (again) for the previously mentioned cold rice and chips, and compulsory traditional dancing in heavy costumes, before continuing to explore the lake islands and returning to Puno on our boat. We didn't actually do any dancing or even dressing up - adopting the twin strategies of blaming a mixture of age, altitude and British reserve on the one hand and scowling fiercely at anyone who approached us on the other. As an aside, you'll notice that we began this paragraph with the words, "up at first light" and that this phrase or others like it pop up with a depressing regularity in this narrative. It's just that Peruvian journeys just don't seem to have any other start time.
| | | |
| --- | --- | --- |
| | | |

From Puno, it's the dawn bus to Arequipa where we have a hotel for a couple of nights - we will leave the bulk of our luggage whilst we make the trip to Colca. Now, even in a country with an awful lot of towns which can be described as "not much of a place", Colca is truly not much of a place. It's not really even a town, but it does have the most amazing open-air thermal baths. It's quite something to sit there, surrounded by the towering Andes, up to your neck in steaming mineral water, whilst sipping a cold Pisco Sour and watching the sun set. It's so stunning that it's almost possible to forget the baggy much-used rented swimwear that you're sitting in - almost!

The other reason for being in Colca is that it gives access to the Colca Canyon and that, rather than the opportunity to wear rented underwear, was the main reason for being there. The Colca Canyon is an immense scar in the planet's crust. Deeper (though it has to be said, less spectacular) than the Grand Canyon. But the main attraction are the condors. It's an early start (up at 0430), a long gruelling trip over unmade roads to get there, and at first the condors do seem to have taken the day off. But as the sun begins to increase the temperature, the thermals start to rise and the occasional black shape slides out of a nest hidden in the cliffs below, before frustratingly disappearing a few minutes later. In another half hour the thermals have strengthened and then the show really begins. It's a breathtaking sight to watch these huge black birds, effortlessly spiralling up towards and then above you, often passing within a few metres. We are clearly no threat and also (hopefully) not prey. So they just keep on doing what they are so perfectly evolved to do and they ignore us completely.

Then the long slog back to Arequipa. Arequipa is quite probably our favourite city in Peru and we wish we could have stayed longer, but unfortunately we have a flight booked we're only there for one more night before returning to Lima. Just time for a flying visit to see Juanita the famous ice mummy - sacrificed to the gods on top of Mount Ampato 500 years ago. Perfectly preserved in the ice since then and now on occasional display in very carefully controlled conditions in the Museo Sanctuarios Andinos in Arequipa.

Lima hasn't improved whilst we've been away and it's still foggy. Edgar offers us another city tour. We can't think of a decent excuse so agree to go. For this trip Jorge Louis has rustled up a circa WW2 vintage military minibus with circa WW2 seats! We are to share this trip with a small group of Icelandic tourists - it's a small world! Actually the trip isn't bad, but the star turn is the restaurant. The owner is a real food enthusiast and has scoured the country for traditional recipes that he can refine and serve in his restaurant. Perhaps here would have been a better place to have tried the deep fried Guinea Pig - rather than the greasy tough example previously sampled in Puno.
And that was the end of our whirlwind trip around South America. Time to rearrange our luggage for our next destination with a different climate. Oh, and as a footnote, as he said goodbye to us at the airport for our flight to New York, Edgar handed us the Pesos to cover our taxi from Ollantytambu. Like we said, scrupulously honest.
| | | |
| --- | --- | --- |
| | We spent a fantastic week in NYC - overdosing on availablity - at the beginning of June and then a couple of weeks back in the UK for a family wedding in Yorkshire before boarding a plane to São Paulo to begin the long trip home to Samarang. | |